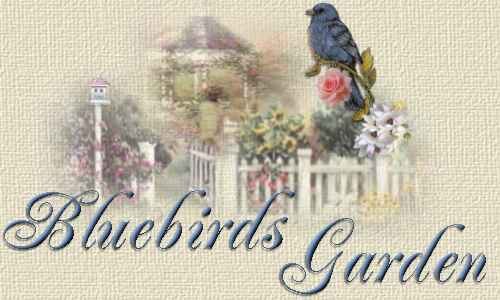 As I was going from web page to web page, to web page I came across this bluebird.

He looked so lonely sitting there on that "black page"

So I bundled him up and brought him home with me and fell in love with him.

Now he has a place to call his home

~~~on top of my first web page.~~~

Please walk along our garden path with us.
There is so much to see and so many places to visit.
Bluebird and I have gathered information on Gardening~
Flowers as well as Vegetables, Birds, Butterflies,
and also we have added personal sites that we liked.
There are even parts of the Garden that have links to
information which we found useful to design our website.
So come along with us and please enjoy yourselves.

After a good nights sleep, we went shopping.
To see what we could find to bring home with us to plant in the garden.
We knew right where to start at:
~~Kathyís~~
Kathyís Garden of Roses
Kathy has so many beautiful roses in all kinds of colors.
Some that even move.
We really liked to see all the little humming birds.
Because we like birds donít we?
We said goodbye to Kathy and thanked her for a lovely time.
Going down the path a while further we came across
this pretty butterfly and his home,
so we stopped in to learn all about Butterflies.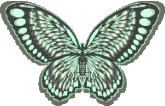 ~Wonderful Butterflies
Any kind of information you want to find is in here.
We learned everything
from how Butterflies fly to what plants they like,
where they live to butterfly Gifs.
There is also a link to
"Sets By Andy"
where Butterfly gifs & background sets are.
No wonder itís named "Wonderful Butterflies"

Annie came over after church this afternoon to bring us some "good news".
She is just the sweetest girl youíll ever meet
and when you visit her youíll understand why.
She is so very talented.
Make sure you really look around in here ,
you will be surprised at the information she has.
Annies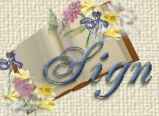 We have ventured out of our "Garden"
and we now have another little place for you to visit.

We hope you will like to come see us often.
~Bluebirds Christmas Land~

I hope to see you at any of my other sites

Quick Index
Sets By Andy
2,
3,
4,
Butterfly Backgrounds 1, 2,
Butterfly Gifs1, 2, 3, 4, 5,
Floral Backgrounds
Textured Backs
1, 2, 3, 4, 5, 6, 7, 8, 9,
Bluebirds Garden
Wonderful Butterflies
Baby Sets
Easter Sets
Valentine Sets
St Patricks Sets
Halloween Sets
Thanksgiving Sets
Christmas Sets
Bluebirds Christmas Land
Christmas Links
Tutorial~Computer Basics
Tutorial~ Outlook Express Mail
Tutorial~ Microsoft Picture It
Tutorial~ How to transfer your Web TV sites to Tripod
Tutorial~ How to transload to Tripod
Paint Shop Pro Favorites
Friendship Garden
My Awards/
My Gifs/
Banners
Home Page
Website Designed Sept. 15, 1999
E Mail Me

On our shopping walk we bought home only the items that were free to us.
If we have something that belongs to someone
please let us know and we will gladly give it back or give you credit.
Some of the websites that we have included on this site are "Commercial", We have included them for your information only.
We have not put them on here to "Intice" you to "Purchase" anything.

Next